Spoken English
Speak, Talk, Discuss in Fluent English
withour Spoken English Course. You
will beable to create your own
Sentencesand English Words
pronunciation will be improved.
English Grammar
English Grammar is the toughest and many students have fear of English Grammar. At English Kranti you will get knowledge and Simple Techniques to Learn English Grammar Easily.
Written English
Written English will improve your Sentence
forming ability and improve your Speed to
Think, Frame Sentence and Write with
correct Spelling, thus giving you
success in Written Examination.
Interview Preparation
Many People have fear of facing Interviews.
We prepare every individual with proper
guidance related to Interview Q& A and
thus clearing Interviews in first
attempt.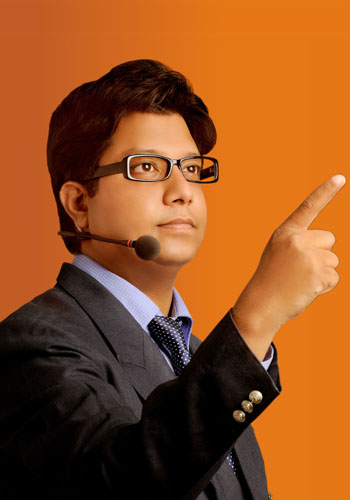 Best English Language Institute in Udaipur
---
Dreamt in 2004 to be a good Speaker of English language and to overcome all obstacles in his Career because of English Communication DEEPESH S. JAIN realized that it's not only his problem but its problem of every Common man and then in 2006 after learning and proper training he started teaching. Now it has become more than 13 Year.
We have been benefiting and Satisfying people in overcoming their problems regarding English communication. Here we teach every student from very basic. As the Most important thing is proper knowledge of grammar and later on while Speaking or Writing use this knowledge in proper way, and Here we do this only and for building up confidence we held So many activities like Stage presentation, Group Discussion, Debates, Extempore, Mock Interview Sessions and etc.
During the journey of 13 year DEEPESH S. JAIN has trained Several Organization and benefited them like in the year 2011 he was hired for training INDIAN ARMY for their International Competition preparation. In 2014 he trained again INDIAN ARMY.
Courses we offered for Students
Written & Spoken English
This Course includes Writing, Reading and Speaking English in a better way. It helps the student to think in English and pronounce English Words properly. Written English reduces the chances for Spelling Mistakes.
Group Discussion
Only Writing, Reading and Speaking English is not Enough. A person needs to be good in Communication as well. Communication needs fast thinking and speaks every sentence with clarity.
Interview Session
In the Interview Session, a person can learn how to answer confidently the random questions which are asked by the interviewer. How to respond to every question and improves the thinking process.